How to Choose the Right Travel Luggage for Your Vacation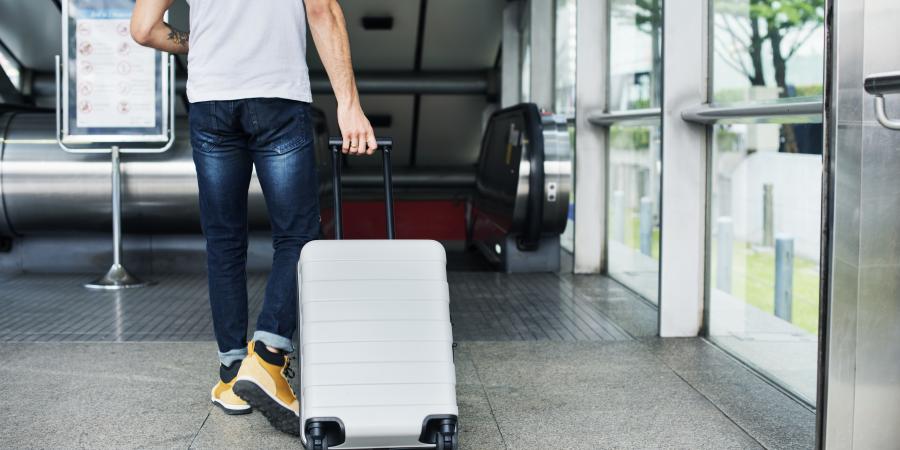 As exciting as traveling can be, it also comes with some stressful aspects. Hurling luggage to and fro can be a breeze, or it can cause strain on your travelling experience. The first thing you need to do is consider your travelling style and cater specifically to those needs when choosing the right travel luggage for your vacation. With that in mind, we have compiled a list of some important things to consider beforehand.
Suitcase or Backpack?
We mainly focus on suitcases rather than backpacks in this article for the following reasons:
Maneuvering through airports with a lot of people and traffic, while carrying a large weight on your back is not easy. Suitcases are a lot simpler to maneuver through traffic with ease.
Simply roll your luggage with ease. This is our top reason for picking a suitcase.
A backpack does not give much organization leeway. You'll only have access to a top-loading packing mechanism where you will be forced to remove everything to reach an item at the bottom. A suitcase gives you a clear view of all your belonging as soon as you unzip or open it.
Carrying a backpack doesn't really look good.
Hard or Soft?
You should choose your travel luggage based on your travelling needs. For example; are you travelling for business, or for fun? Are you planning to carry any expensive items that might break easily? A hard carry-on is perfect for anyone carrying items such as an expensive camera, or if your vacation is going to be in areas with harsh weather conditions. Hard casing will offer protection to any item prone to breakage.
Soft luggage is perfect for anyone looking for added storage. These bags can expand making them ideal for anyone wanting to carry some souvenirs back with them. Also, soft carry-on cases are easy to stuff into an overhead compartment.
Size
One main thing to keep in mind is to never purchase a carry-on that's larger than you can actually lift over your head. Next, how long is your vacation going to last for? Many people are able to survive with fewer items than others but when visiting a foreign place, a smaller carry-on is more ideal. Before purchasing a carry-on, inquire about that specific airline's international and domestic size requirements.
Some airplanes allow smaller carry-on's so it's best to always restrict yourself to buying a suitcase that's approximately 21 x 13 x 9 and aim for a weight of 15 - 20 pounds.
Here's a breakdown of some popular carry-on sizes:
International carry-on size is mostly 18 - 20 inches
The most popular size of a carry-on is 21 - 22 inches - This is a great size, offering ample space, yet light enough to lift. You can travel for a month without much hassle.
If you're travelling with a loved one, then a medium size would be perfect. So, consider purchasing a 23 - 24 inch carry-on.
For those who love having extra space, then 25 - 27 inches will provide you with lots of room to carry your souvenirs or your clothing items. Also, if you are vacationing with your family, then you can easily fit everyone's belongings into just one of these suitcases for easy handling.
A 28 - 32 inch size is simply too large for a travel suitcase. It's very bulky and can be very hard to maneuver. This size is simply best suited for anyone planning to move abroad or anyone thinking of going to live in another country for long durations of time.
Sometimes it might be better to purchase two smaller suitcases as opposed to buying a large, heavy one. Granted, you'll have to pay extra but it'll be worth it because you won't have to worry about stuffing everything into one bag or, incurring overweight fees when travelling back home with some souvenirs.
Color
It's best to purchase a bag with unique prints and colors. This way, you'll find it easy to spot it on the luggage carousel. Also, you won't accidentally mistake it for someone else's bag.
Wheels
Wheel choices come in two options; two or four. Two wheels is the most common as these bags tend to be lighter and easier to run with. You can also yank your bag over stairs with ease without having to manually lift it. However, these type of cases tend to tip over easily.
Four wheels stand upright allowing you to easily roll them sideways in crowded or shallow pathways, such as inside a plane.
Look for bags with locking wheels - this will prevent your bag rolling away.
Material
Always make sure that your luggage has water resistant materials or it has at least been treated with a sealant on the inside to keep your belongings dry. This is quite important as sometimes your luggage might be placed on wet, sticky, or dirty surfaces by baggage handlers.
If your bag doesn't have a moisture-resistant sealant, then simply line the top and bottom of your suitcase with plastic bags (a garbage bag or a dry cleaning bag will do just fine.) This simple trick will keep your clothes dry even if your suitcase gets wet on the outside.
Straps
Purchase a suitcase that comes with adjustable straps. These straps will help keep your belongings secure and compressed.
Piggy Back Clip
Have you ever seen those looped clips located on top of some travel bags? They are called piggy back clips and they allow a traveler to clip a smaller second bag on top of the larger one - this way, your items will stay secure together throughout your travels.
If your carry-on doesn't come with any piggy back clips, you can go online and buy one for a reasonable price.
Compartments
Compartments come in handy when you want to organize your belongings. For example; instead of storing your small shampoo, or liquids, with your clothes, store them in an external pocket (this will prevent your clothes getting ruined in case of any spillage). Plus, they'll be easy to locate when the need arises.
BiggieTips - Tips and Tricks for your daily life ( http://www.biggietips.com )
We are dedicated to BIG TIPS to help you get things done more efficiently. You will master how to do everything in a bigger way and live smarter. Topics include Home, Health, Lifestyle, Travel, Technology, Entertainment, Business and Video.
* FB - http://www.facebook.com/biggietips
* Twitter - @BiggieTips
* Pinterest - @BiggieTips